Blower Door Test in New Jersey
We service homeowners looking for increased energy efficiency  and contractors looking to close out building permits across the entire state of NJ.
Whether you are Newark, Elizabeth, Eddison, Jersey City, Patterson, Woodbridge, Toms River, Vineland, Pennsauken, Cherry Hill, Gloucester Township, Camden or anywhere in the State of New Jersey we can help you close out your building permit with our fast and reliable blower door testing service.
What Is A Blower Door Test
A blower door test is a diagnostic tool used to measure the air leakage rate of a building. It is done by creating a negative pressure inside the home, and then measuring how much air flows through the cracks and gaps in the building envelope. The results of the test are expressed as an air change rate (ACH50), which is the number of times the entire volume of air in the home will be exchanged with outside air in one hour.
A blower door test is a valuable tool for homeowners and businesses in New Jersey. The state has a humid climate, which can lead to mold and mildew growth if there is too much air leakage. Blower door testing can help to identify areas of air leakage, so that they can be sealed up to improve the home's energy efficiency and indoor air quality.
If you are a homeowner or contractor in New Jersey, and you are concerned about your home's energy efficiency or indoor air quality, you should consider having a blower door test performed. A blower door test can help you to identify areas of air leakage, so that you can seal them up and improve your home's comfort and energy efficiency.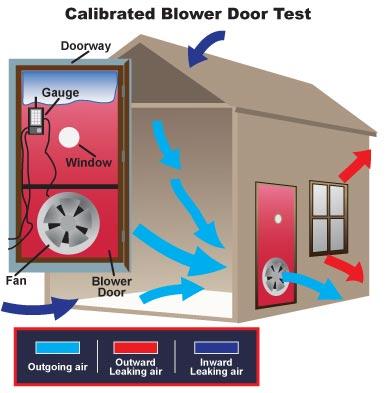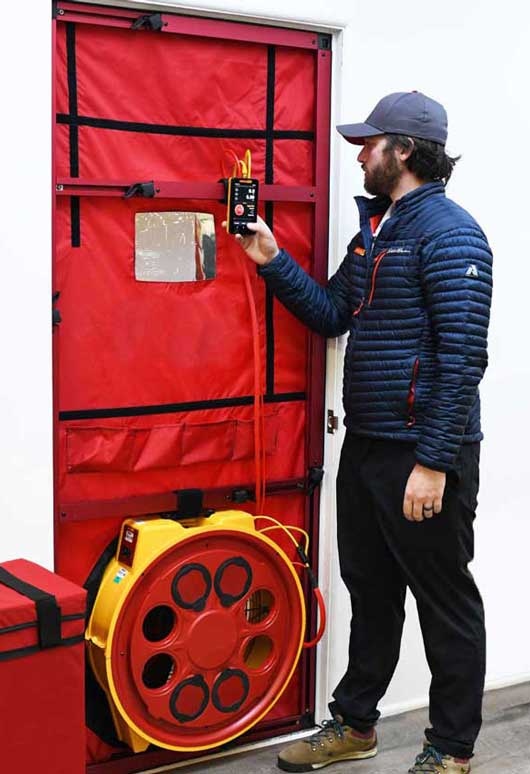 Benefits of Blower Door Testing
Improves energy efficiency

Reduces heating and cooling costs

Improves indoor air quality

Prevents mold and mildew growth

Extends the life of your home's HVAC system

Can increase the value of your home
We Conduct Blower Door Tests Anywhere In NJ and the Following Cities:
Elizabeth, NJ
Newark, NJ
Jersey City, NJ
Paterson, NJ
Eddison, NJ
Woodbridge, NJ
Toms River, NJ
Vineland, NJ
Gloucester Township, NJ
Camden, NJ
Pennsauken, NJ
Cherry Hill, NJ